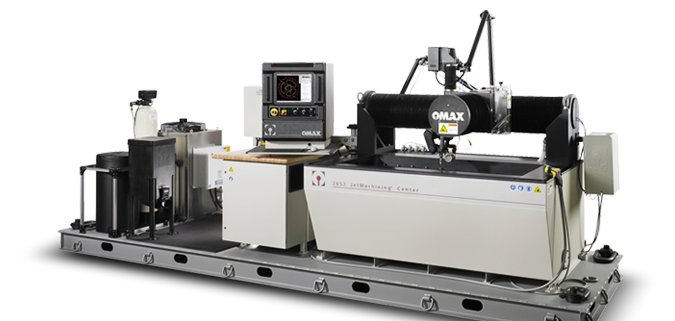 Machine Description
With the mobile OMAX JetMachining® Center, the OMAX Corporation meets the specific requirements of the oil field maintenance, high-rise steel construction, shipbuilding, commercial industries supporting government programs, and any other commercial businesses needing to easily transport waterjet equipment on a regular basis. Essentially, the extremely durable and reliable system is a transportable abrasive waterjet shop mounted to a steel base with forklift access points, so the entire system can be quickly and easily moved.
System components rest on a durable, epoxy-coated platform that features metal tie-down rings for safe and secure shipping
Delivered completely assembled and factory tested; includes a direct drive pump, a chiller, water softener system, and 100 lb bulk hopper for abrasive storage
Video
Designed for use by the DOD and the military, the mobile waterjet by OMAX has durability, reliability and is a perfect fit for high-rise construction, ship building and mining.
Resources
Read More Articles & Whitepapers »
Focused on rapid response since its founding, the U.S. Marine Corps have deployed Marine Expeditionary Units to trouble spots around the world for more than 200 years.